What is Zoom?
Zoom is free video conferencing software that allows you to see other participants in real time from your computer, smartphone or tablet. You can use it to connect with friends and family, or to join a virtual library event!
What do I need to Use Zoom?
If you are using Zoom on a smart phone or tablet you'll need to download the app from your device's app store.  
If you are using a desktop computer or a laptop, you can either use Zoom in your web browser or install Zoom on your computer. If you wish to install Zoom on your computer:
Enter the following URL https://zoom.us/support/download into the address bar of your web browser (ex. Google Chrome, Firefox, Safari etc.) to download the software -to your computer. The download will start automatically.

Double click on the Zoom Installer to install Zoom to your computer. 

Once the installation is completed, double click the Zoom icon on your desktop to get started. 
While you are able to just be an observer during a Zoom meeting (the host will know you are there and you can watch and hear the participants, but no one will see you or hear you), it is more fun to join the conversation!  To do so you will need a camera and microphone.  Tablets, smart phones and most laptops have these built in, on a desk-top you will likely have to have separate equipment. If you do not have a microphone, you can also call in on a phone for audio.  If you do not have a camera you can still participate by observing, listening and talking.      
Do I need a Zoom Account?
If you are planning to use Zoom to attend virtual library programs you do not need to create an account.  However, if you wish to use it to virtually meet with anyone else, you may wish to create an account so you can initiate meetings.  
How do I join a Zoom Meeting?
Advanced registration will be required for all library zoom events.  Different events may have different instructions for registering, but if you are unsure what to do you can always email librarian@middlesex.ca or call 519-245-8237 and leave a message.
After you've registered, although not immediately afterwards, you will receive an emailed invitation to the Zoom meeting.  The email will include a meeting link, meeting ID, password and numbers for dialing in by phone. 
At the designated day and time, click the link in the email message to join the meeting. If you are using a computer or laptop and haven't downloaded Zoom, a pop-up may appear prompting you to download it.  If you don't wish to, click the link that says "join from your browser".  If you are using a tablet or smart phone and have not downloaded the Zoom app, you will be promoted to do so. Enter the Meeting ID and password when prompted to do so. If you have not created a Zoom account, you will also be prompted to enter a display name.  If you are attended a library event, we recommend you use the name you told us when registering.
Once you join the meeting, you first will be asked about your video and audio preferences. You can choose whether or not you want video enabled and then you can choose if you want to use the computer's audio. Note: you can also call in for audio.  If the number provided in the email is long distance, you can dial the Canadian toll free number 1-855-703-8985.
If you are early to the meeting, your screen may say "Please wait for the host to start your meeting". You will have the option to test your audio in this screen. Learn how to test the audio on your device on the Zoom website.
Once the host starts the meeting, your Zoom app will refresh and you will see the meeting platform.
Navigating Zoom
The main content area displays the video feed of whoever is currently speaking. Other user feeds will be displayed at the top of the page. You can change the layout of the screen by selecting the Gallery view button in the top right corner of your screen. This will change the screen to a grid layout, allowing you to see all participants.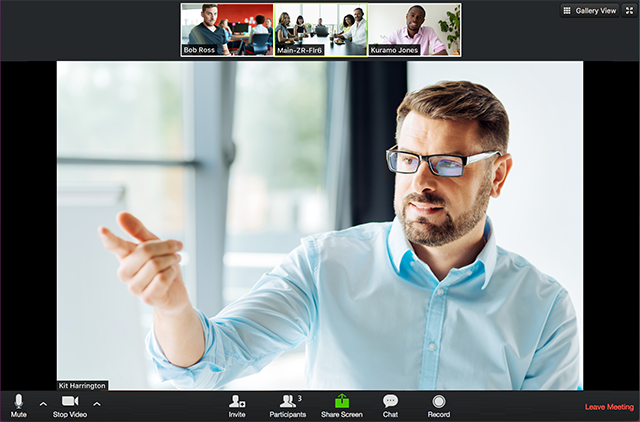 Here are the basic participant controls you will see at the bottom of your screen:
Mute: click to mute/unmute
Start/Stop Video: click to turn on/off your camera
Participants: See who is currently in the meeting
Leave Meeting: click to leave meeting
Your host may choose to have all the participants muted, in order for themselves or the guest to be heard.  You are still able to submit questions or comments via the chat.  You can also choose to raise your hand, to indicate to the host you'd like a chance to speak. 
Additional Help
Middlesex County Library has created a PDF called Getting Started with Zoom.  You can save it to your computer or print to refer back to. 
From the Zoom website, Getting Started on Windows and Mac
From the Zoom website, Frequently Asked Questions
From the Zoom website, Getting Started with Android (this includes Samsung tablets and phones)
From the Zoom website, Getting Started with iOS (this is iPhones and iPads)